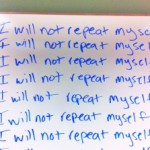 What are Tautology and Redundancy?
This tasty taste of writing: what are tautology and redundancy and how to avoid them?
Have you ever come across "most recent new research"? Whoever your editor is, this person won't miss such a construction, which in turn will lower the grade and your rating as a writer. So, it's time to "specialize the case in details" and define redundancy to avoid it.
Here we deal with linguistic understanding both of redundancy and tautology, and only with it. Redundancy is unnecessary repetition of information both in speech and writing; another proper term for it is pleonasm. It's also indicated as usage of predictable information or some superfluous words. Two most common types of pleonasm exist: syntactical (grammar) and semantic (word meanings and style).
Grammar redundancy is a kind of rather typical mistake in text
It usually isn't highlighted with Microsoft Word program or other grammar checkers. It is seen as usage of similar constructions in sentences, same word patterns, repeating pronouns, propositions, and conjunctions. To understand the issue with grammar redundancy, compare two sentences:
"He stretched to the table because he wished to demonstrate that he still could move freely".
"He stretched to the table to demonstrate he still could move freely".
Both of them have similar meaning but the first one is overloaded with unnecessary constructions, while the second represents the same idea in a smoother way, following the main dogma of linguistics about "word economy".
Contrary to grammar redundancy, semantic redundancy can be detected only by humans
People have got logic and imagination to detect contextual synonyms. For example, read this sentence and find two words with the same meaning:
"Scientists have got a general consensus of opinion concerning the solution of garbage recycle problem in the city"
Here, the words "consensus" and "opinion" convey almost the same meaning and usage of both is a kind of semantic redundancy. The same is with such expressions as "innocent and sinless child", "most recent new research", "sunset in the evening, "specialize the purpose in details" etc. Semantic redundancy is close to tautology and often is contaminated with it – as a kind of words with similar meaning that are used in the same word construction/sentence/passage.
Tautology is quite similar to semantic redundancy
However it also can also develop in repeating cognate words and simply repeating the same words through the text passage. "Horrible horror film", "circulation of air circles", "jump spots built for jumping" and so on give a clear idea of what tautology is.
Academic writing is already tough, and one doesn't need to further complicate it by overloading texts with repeat constructions. Keep your style simple and re-read the text to eliminate the unnecessary expressions for your works to be clear and engaging to read.