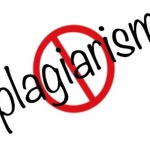 Plagiarism Checkers Review
Plagiarism is the intentional appropriation of authorship. If considered from the viewpoint of academic writing, it is borrowing the works of others, completely or partially and presenting it under your own name or without specifying the name of the real author. We can distinguish the following types of plagiarism: deliberate plagiarism, paraphrasing, patchwork paraphrasing, bluffing, stitching sources, and using a copy of your own work.
With flourishing of digital technology, plagiarism becomes a global problem throughout the world. To avoid similarities, various software and online plagiarism detection services were developed and implemented. Today, we will describe the most popular and useful checkers, which are available for everyone.
Turnitin
Turnitin is a global leader when it comes to dealing with plagiarism. It is very popular among University students. Turnitin cooperates with leading universities in order to provide an effective tool to determine the similarities in students' papers. One of its many features, for example, allows determining papers which have been translated from English into other languages. Turnitin is very widespread software and it is available for users in more than 100 countries around the world.
Database of this detection system includes:
• more than 1.6 million active teachers
• more than 45 billion web pages
• more than 10,000 educational institutions
• more than 24 million licensed students
iThenticate
It is the professional plagiarism software widely used by research constitutions, scholarly publishers and professional writers. It is possible to check the paper written in over different 30 languages, for example: Japanese, Chinese, German, French, Italian, Arabic, Russian and Turkish. It supports the following types of files: XML, DOC, PDF, HTML, HWP, RTF etc. It contains various types of document in its database: articles from different publications, research papers, manuscripts, business reports, financial analysis, PhD and Masters dissertations.
Database of this detection system includes:
• more than 38 million (STM) publishers
• more than 45 billion web pages
• more than 130 million content items
CopyScape
It is a free online checker. However, it also includes the paid version (Premium search). It offers expanded search possibilities and contains more options. The users can check an unlimited number of papers per day. There is an option to save the uploaded text in the Private Index, so that it can search for similarities between the papers checked in the future and the ones that have been uploaded in the database.
Plagium
It is a free online checker, very similar to CopyScape. However, it is possible to check the paper no more than 10 times per day. It is slightly less reliable that other plagiarism checkers.
PlagiarismCheck
It is yet another free online plagiarism checker. PlagiarismCheck allows checking an unlimited number of papers. It is easy to use, smart, but not very fast. It works with a wide variety of document types. It is a possible choice for teacher, students, as well as freelance writers.  You need only to create a free account.
There are many others good checkers such us: Dupli Checker, Plagiarisma.net, PlagiarismChecker.com. All of them are simple to use and they are available for everyone. Using them is a matter of preferably. However, when choosing the software or an online service to check the document for plagiarism, one should take into account multiple factors, such as weather this paper will or won't be stored in the database. Remember, that checking the paper in Turnitin will save the paper and if the customer then checks it there again, it will show 100% plagiarism. Factors like these are all that matters in business, such as Freelance writing. So, please, keep that in mind and don't plagiarize!